Have you ever heard of a lead nurturing strategy? If you are serious about your website visitors and want them to convert into leads (customers), then you need to adopt and implement a lead nurturing strategy correctly. Here is what our digital marketing experts have to say about how to generate more sales through a lead nurturing strategy.
The simplest definition of lead nurturing is "nurturing the relationship with potential clients." To make it happen, a business must take its credibility very seriously. However, this is not as simple as it seems because lead nurturing is a technique used by every second company.If you want to surpass the market competition, you must stand out from the market. For that, you need to offer quality services, matchless products, and an unforgettable shopping experience.With a correctly implemented nurturing strategy, one can expect an exponential increase in the customer's propensity to buy.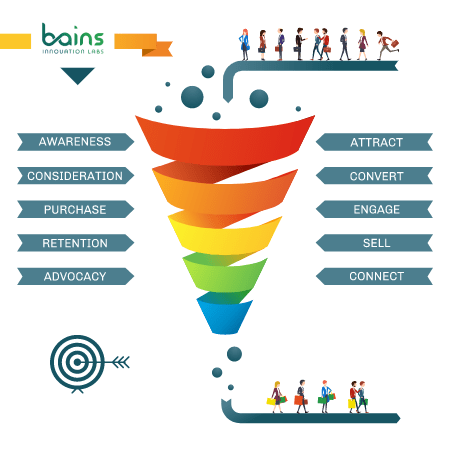 Things to keep in mind when forming a lead nurturing strategy
Content plays an important role
Your website's content plays an important role when you are expecting results from a lead nurturing strategy. To make sure that a lead is passing through the appropriate sales-funnel channels, associated website content is a must.
Each action of the funnel must be timed properlyEach action of the funnel must be timed properly because customization is one of the main characteristics of the lead nutrition strategy. Therefore, while implementing a nurturing strategy, your 100% attention is a must.
Audience research is mandatory
To get the best results from your lead nutrition strategy, you must research your leads. This means you need to conduct thorough audience research. Once you know what your customer wants, it will be easier for you to deliver something that will not only educate them but also strengthen their relationship with your brand.
Regardless of the reason, you, as a business, must invest in lead nurturing. For successful implementation, you need relevant marketing automation tools. Like a baby, your brand also needs the right volume of nutrition. It would be better if the process could be automated. To do so, some essential actions must be carried out. Here are some examples:
Offer educational and relevant materials via e-mail marketing.
Produce good materials for social networking that educate and attract your leads.
Show how the solutions offered by your brand can improve things.
Show the level of authority your brand shares in the market.
When signing up for a lead nurturing strategy, your business sector hardly makes any difference. If you are subscribed to any of the marketing journals, you will be able to find that innumerable companies are already generating a good amount of money through this strategy.When applying, keep in mind that this process takes time and can take a while to notice. However, results are guaranteed, and you need to be patient.
Secondly, lead nurturing actions are cyclic. In simpler terms, once done is not enough. You need to nurture the lead even after purchase. Once a sale is made, you must not give up on solidifying your relationship with the customer. This will convert your lead into a loyal customer, and he will be marketing your product for you.
Now that you know the importance of this strategy, it is time for you to invest in it. Being a digital marketing agency in Toronto, Canada, we can offer you the required assistance. Feel free to
contact one of our digital marketing experts
.