In this era of consistent change, it becomes essential to put some of the business tasks on automation. By putting them on automation, a business can not only reduce work-load, but it also allows a business to shift its core focus to the business's primary tasks. Through this article, let us discover a few more positives of business process automation.
Shifting of focus towards core tasks
Regardless of industries, the future of automation is adopting a technology that fastens up the supply chain from the company's suppliers to its consumers.Upon putting the supply chain on automation, a business can serve its customer in a faster way and way before their competitors, and that too at the most incredible price. This way, a business can now focus on other important tasks.
Promotion of Technological Tools
Undeniably, once a business adopts new technology, it provides them a competitive advantage over its competitors.Adoption of new technology enables business owners to achieve their goals. Besides, it minimizes administrative expenses and increases the capabilities of the company.
Are You Looking For An Business Process Automation Expert ?
Share your requiremetns and we will do it for.
Contact Us
We are already in an era, where people want a solution at the speed of light. If you are not fast enough, you cannot expect to build a good client base. Besides, surpassing your competitors that are already using the streamlined processes and latest technologies will become an impossible task.
Responsibility and Work excellence
To make your employees feel empowered, you must adopt a business process automation. This encourages a culture of responsibility and works excellence.No one wants to work in a micromanaging environment. And by using a business automation process, this can be reduced. Through automation, managers can keep an eye on staff development areas.When the working process is automated, it becomes a lot easier to produce outstanding results and recognize the better performers. When certain tasks are handled through an automation process, managers can allocate more work in advance, which mitigates backlogs.This way, all employees remain engaged and productive. Besides, they remain socially active, and hence, happy.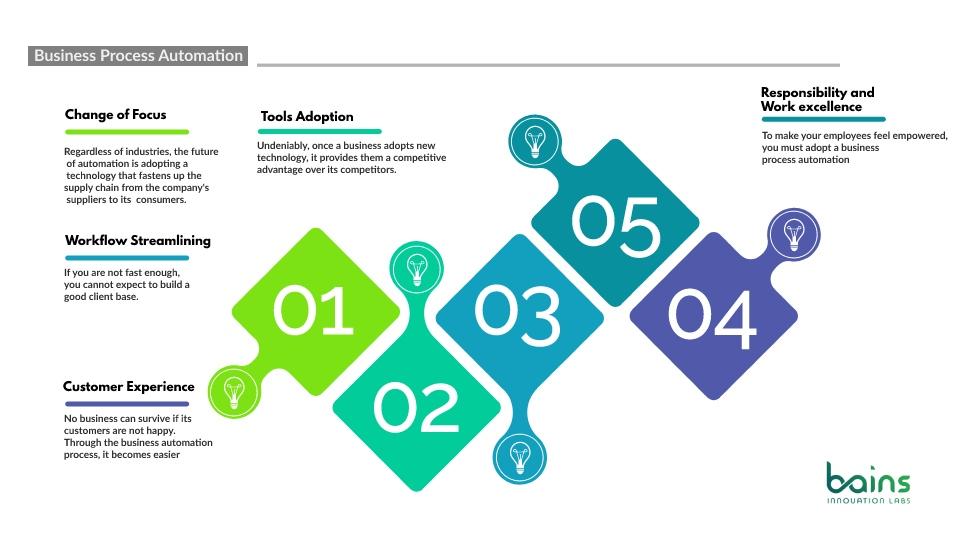 Better Customer Experience
No business can survive if its customers are not happy. Through the business automation process, it becomes easier to interact with customers and learn about their experiences with the product. BPA allows the employees to free up some time to solve more challenging problems. This eventually results in improving the overall customer experience.To increase customer retention, business process automation can help. Undeniably, happy and loyal customer means more revenue for the business.
Thus, adopting BPA will allow your business to grow and attract more customers through word of mouth. Let us know if you want to speed up your business processes.